Techware Distribution was started in 1995 with a focus on diskette duplication. Over time we evolved into a powerhouse in data storage media, storage devices, disc printers and printing supplies.
For over 20 years we have provided critical data solutions to customers around the world. With history that predates the compact disc and knowledge gained from such venerable firms as Control Data and Seagate, Techware employees know technology.
Techware Distribution has employee owners who are actively involved in running the business. We support our online store in-house, so you can rest assured we will help you with any and all store-related issues.
Printing and Duplication
Not only do we print and duplicate millions of discs each year, but we use the same ink, ribbons and discs we offer in our store. We are able to bring competitive prices and the confidence of knowing what you order is in stock and ready to ship same day if ordered by 3PM, CST.
MO and other supplies
We have the largest stock of MO disks anywhere in North America. When it comes to MO we are experts in sizes, options, drives and what you need to get the media critical to your business. If the US Navy uses our products it will work for you.
With CDs and DVDs, we stock what you need for inkjet and thermal printing or audio and video distribution. We use the media we stock for our customers and we are constantly testing to make sure we have the best discs available.
Equipment Repair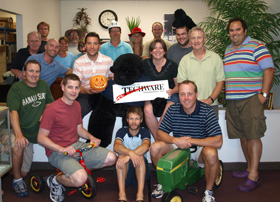 We may sound like a broken record, but all of our production is done using the latest in thermal, inkjet and digital printing. Our in-house repair department services our production machines and can give you unparalleled knowledge into your printer or duplicator. With a combined 30+ years experience in service and repair you can trust the job to be done right.

When it comes to critical back-up systems using tape drives and libraries our sales team has seen it all. For over 20 years we have served the US Military, the airline industry and thousands of hospitals and other firms around the world.